Calming

Sedation Dentistry

in Fort Smith, AR

Southern Dental Fort Smith offers nitrous oxide sedation for patients who are anxious about their treatments and want to feel more relaxed while sitting in the dental chair. Nitrous oxide is a clear, sweet-smelling gas that is released through a comfortable mask that is placed over the patient's nose for the entirety of their treatment. If you are interested in learning more about nitrous oxide or adding it to your treatment plan, please get in touch with our team!

Contact Us
How will laughing gas make me feel?
It can vary from patient to patient, but nitrous oxide typically makes patients feel relaxed and totally at ease. In other cases, laughing gas causes patients to feel happy and giddy, which is where the term "laughing gas" comes from. Nitrous oxide won't numb pain (we use local anesthesia for that), but it is used for relieving anxious thoughts and having a more pleasant experience.
Can I drive myself home after receiving nitrous oxide?
One of the benefits of utilizing nitrous oxide sedation is that the majority of its effects wear off after the mask is removed and the patient breathes normal air for a few minutes, meaning you can plan to drive yourself home afterward. You are also welcome to wait in our lobby for a little extra time until you feel completely back to normal and safe to drive.
Does nitrous oxide have any side effects?
Nausea is sometimes reported as a side effect of using nitrous oxide, so we recommend eating a light meal before your appointments to reduce your chances of feeling queasy after your visit. Headache, fatigue, sweating, and shivering can also be side effects, but they should all subside relatively quickly. If they don't, please let our office know so we can advise.
Is nitrous oxide safe to use?
Before we recommend or administer dental sedation to anyone, we always reference their treatment plan and current health status to see if dental sedation is a safe option for them. Nitrous oxide is one of the safer choices for dental sedation since the patient remains conscious the entire time, there are very few side effects, and it wears off very quickly.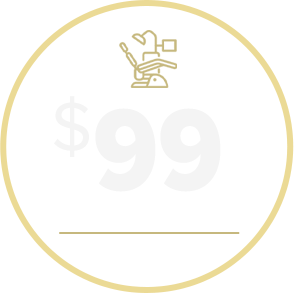 Disclaimer: A $299 value. Valid for uninsured new patients ONLY. In the absence of gum disease. Cannot be combined with any other offers. Coupon must be presented at time of service.
Our New Patient Special
Are you planning your first visit to see us?
We invite you to take advantage of our new patient special for you initial Southern Dental exam and cleaning. We can't wait to meet you!