Affordable

Dentures

in Fort Smith, AR

Whether you are missing several or most of your teeth, our team at Southern Dental Fort Smith can help you restore your smile using partial or full dentures. If you'd like to learn more about our high-quality replacement teeth, feel free to contact our office with any questions you may have or to schedule a consultation with our team. We'd love to create a smile for you that you can't wait to show off!

Schedule Consultation
Benefits of Dentures
Custom permanent dentures are an excellent tooth replacement option for patients who want to restore the appearance and functionality of their smiles. Benefits of dentures include:
Improve Appearance and Boost Self-Esteem
Support Facial Muscles and Help Maintain Face Shape
Improve Ability to Eat and Speak with Ease
Easy to Remove and Clean
Customized to Fit Well and Look Natural
Modern Dentures are More Comfortable than Ever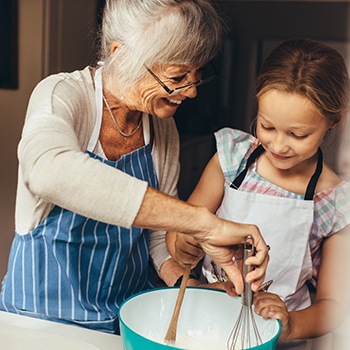 What kind of dentures can I receive?
Southern Dental Fort Smith offers full and partial dentures. Full dentures replace an entire arch of teeth, either all of the top teeth, all of the bottom teeth, or both. They rest on top of the gums and can be secured in place using a special denture adhesive. Partial dentures are used to replace gaps in a smile that is missing several teeth. Partial dentures require a few natural teeth to stabilize them, as they use metal clasps to clip onto nearby teeth. Both types of dentures are removable, and must be removed at night to be cleaned and cared for properly.
How much do dentures cost?
Custom removable dentures that are made just for your smile tend to be more of an investment than other dental restorations, but Southern Dental Fort Smith offers a wide selection of payment methods to make full and partial dentures budget-friendly. We accept cash, check, debit and credit cards, FSAs and HSAs, and dental insurance. We also accept third-party payment plans through CareCredit®, which can break up the cost of dentures into manageable monthly payments. For more information, please visit our financial page, or give our front office a call.