Restore Your Smile's

Health & Functionality
Full-Mouth

Restorative Solutions

in Arkansas

Your smile is important. If you notice that something feels off or you have an idea of what the problem is, please contact us to book your restorative consultation. When dental issues are left untreated, they can have a lasting impact on your oral health. From missing to damaged to infected teeth, it's important to get the treatment you need as soon as possible. Our team is ready and equipped to take care of your restorative needs to get your smile back on track!backlinkboss.com

Contact Us
Tooth-Colored Fillings
Decay can eat away at a tooth's structure and leave behind cavities that are breeding grounds for bacteria. After we remove tooth decay, we use composite resin, tooth-colored fillings to reshape the tooth and seal off the cavity.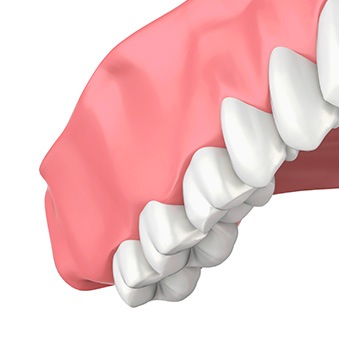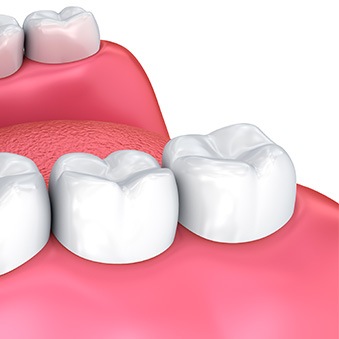 Dental Crowns
Crowns are designed to look and feel like natural teeth. They are ceramic, tooth-shaped caps that are placed directly over a damaged or misshapen tooth. They are a popular restorative option because they can correct cracked, chipped, broken, discolored, and weak teeth.
Dental Bridges
Bridges are appliances used to replace multiple missing teeth in a row. They consist of replacement teeth in the middle with dental crowns attached to each end. The crowns cover existing teeth on either side of the gap allowing the replacement teeth to fit snugly in the empty space.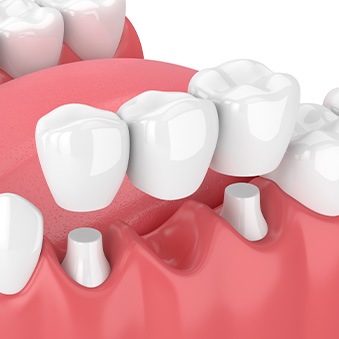 Full & Partial Dentures
Whether you're missing most or all of your teeth, we offer state-of-the-art full and partial dentures to replace them. Our dentures are handcrafted to look and function similar to natural teeth and gums, giving patients the ability to smile, eat, and speak with ease when wearing their dentures.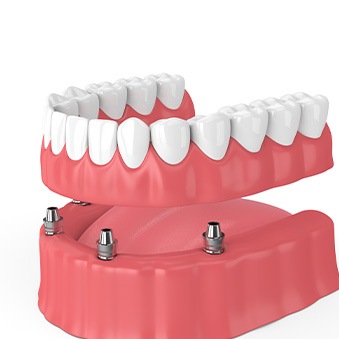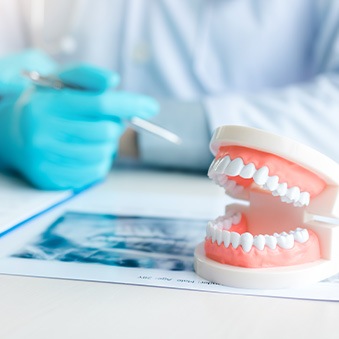 Root Canal Therapy
If you have severe dental decay or you have recently experienced a dental injury, root canal therapy can save your natural tooth. During this treatment, we access and remove the damaged pulp inside the tooth's canals, disinfect the tooth, and fill it in to preserve the tooth's health.
Gentle Tooth Extractions
We take a conservative approach to dentistry, which means that we'll weigh all of your restorative options before choosing an extraction. However, if an extraction is deemed necessary, we'll make sure that the area is thoroughly numbed and that you feel comfortable during the process.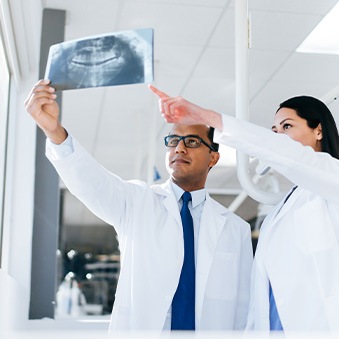 Frequently Asked Questions
What is the difference between dental crowns and veneers?
Crowns and veneers can both be used to repair and protect teeth that have been damaged by tooth decay and trauma. Veneers are typically used on the front teeth that can be seen when you talk and smile because they can be meticulously designed to blend in flawlessly with the rest of the teeth, and they tend to last longer. Dental crowns are often used for molars because they are more cost-effective than porcelain veneers.
Should I get a bridge or a partial denture?
Dental bridges and dentures are both excellent tooth replacement options. Typically, bridges are used if a patient is only missing one or two teeth, while partial dentures are preferred if the patient is missing several teeth. If you are at risk for losing more teeth, it may be more cost-effective to choose a partial denture, as they usually need to be replaced more frequently. Our team will be happy to help you decide which treatment will work best for your smile.
Can I whiten my dental restoration?
Most dental restorations are made of stain-resistant materials, which means they won't stain easily, but they also won't absorb teeth whitening products. There are, however, a few home remedies and products you can buy to keep dentures white and even in color. When we create new dental restorations, we always do our best to ensure that they are a nice, natural shade of white from the beginning, so you won't have to worry about them standing out from the rest of your smile.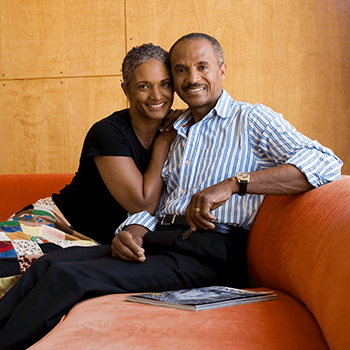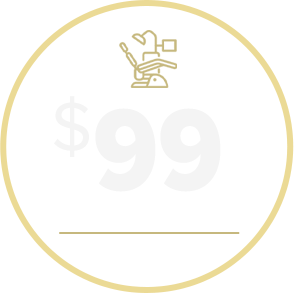 Disclaimer: A $299 value. Valid for uninsured new patients ONLY. In the absence of gum disease. Cannot be combined with any other offers. Coupon must be presented at time of service.
Our New Patient Special
Are you planning your first visit to see us?
We invite you to take advantage of our new patient special for you initial Southern Dental exam and cleaning. We can't wait to meet you!