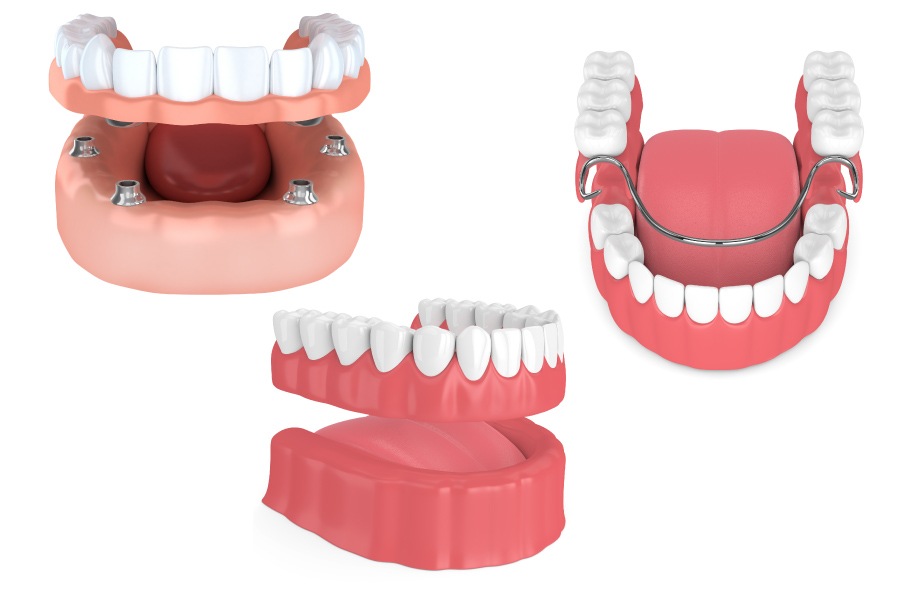 You may be a good candidate for dentures if the following apply to you:
You're Missing Many or All of Your Teeth
Partial dentures can work well for people who are missing many teeth but still have some natural teeth remaining. They can come in various configurations and often attach to your remaining teeth with metal clasps. Full dentures are a great option if you're missing an entire arch of teeth, or even both arches of teeth. They are secured to gums with strong dental adhesive or anchored to dental implants. However, if you're just missing one tooth or two teeth or even three teeth then another restorative solution, like a dental bridge or single dental implants, would make more sense.
You Have the Right Bone Structure in Place
Depending on what kind of dentures you get, you may need a certain amount of bone structure in the jaw for the dental appliance to remain comfortably in place, especially if you want to secure them with implants. If you have significant bone loss, it's possible to get a bone graft. That being said, traditional dentures are still considered a viable option even if you have a weak or deteriorated jawbone.
Consult with Our Team!
To know for sure whether or not you're a good candidate for dentures, we recommend scheduling an appointment at our Fort Smith dental practice. At Southern Dental Fort Smith, we can evaluate your current oral health and smile needs in order to determine whether dentures are the right fit for you. If not, we'd be happy to suggest an alternative tooth replacement. Please contact us today to set up your visit! Our office is open Mondays through Thursdays from 8 AM to 5 PM. We accept check, debit and credit cards, FSAs and HSAs, dental insurance (Aetna, Ameritas, Arkansas BCBS, Cigna DPPO & Discount Plan, Delta Dental of All States, Humana-PPO, and Municipal) and CareCredit® financing. We also offer a 5% discount for seniors and payments in cash.